This stunning little mare came to us in the middle of Feb 2018 as a training livery. She's got amazing potential, however, was slightly lacking in manners on the ground when she first arrived. She settled in quickly and had a good first night, a very tidy mare in the stable which makes mucking out a breeze. Interesting on the lunge, so we're going to work on that, but great ridden with 3 correct paces and we even popped a little fence on her first training session.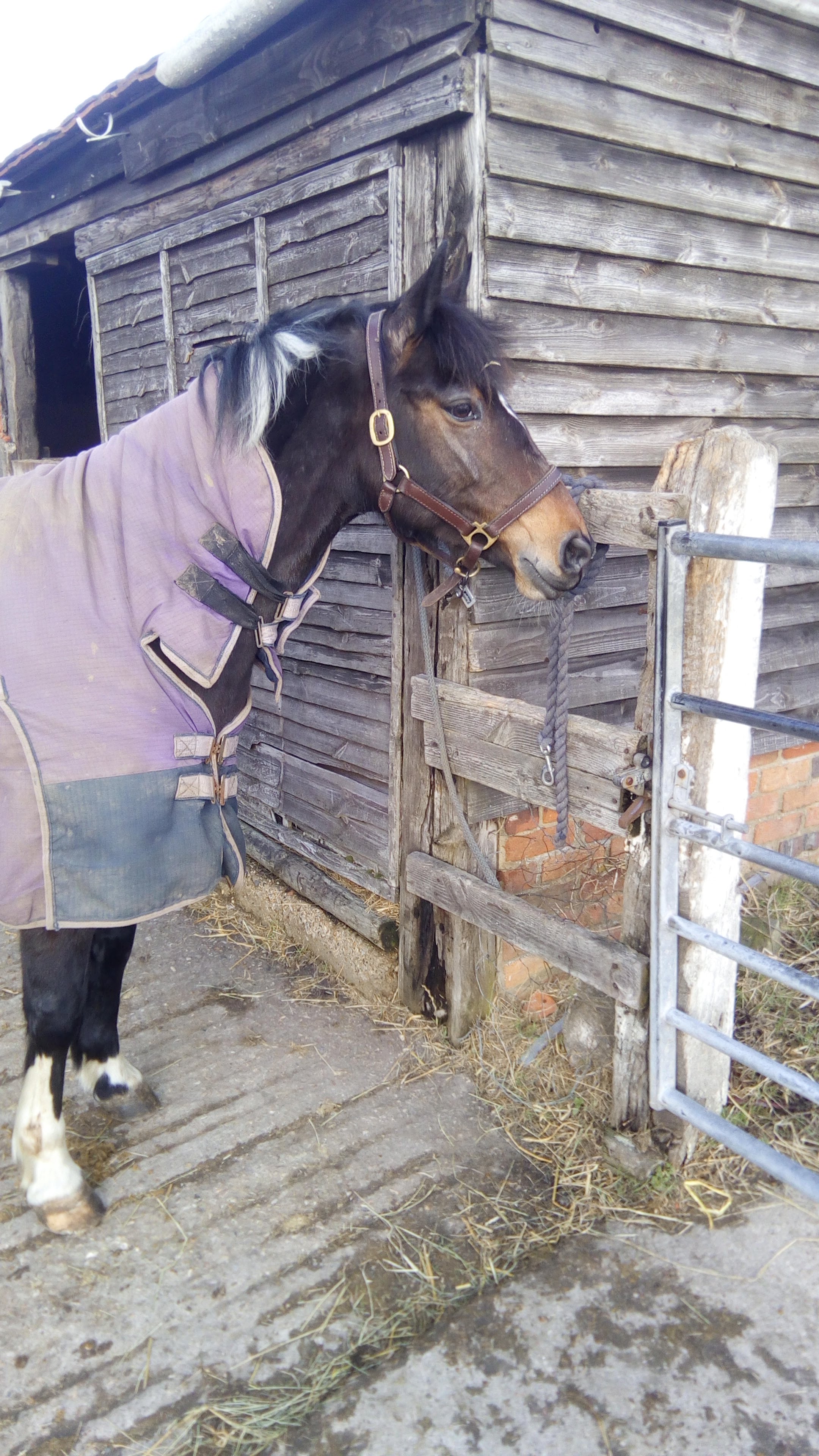 You'll see below Barbie having a little snooze in the sun and has been a complete star since arriving. She's done everything we've asked and although she can occasionally be a little 'pushy' when on the ground she's been a dream to ride.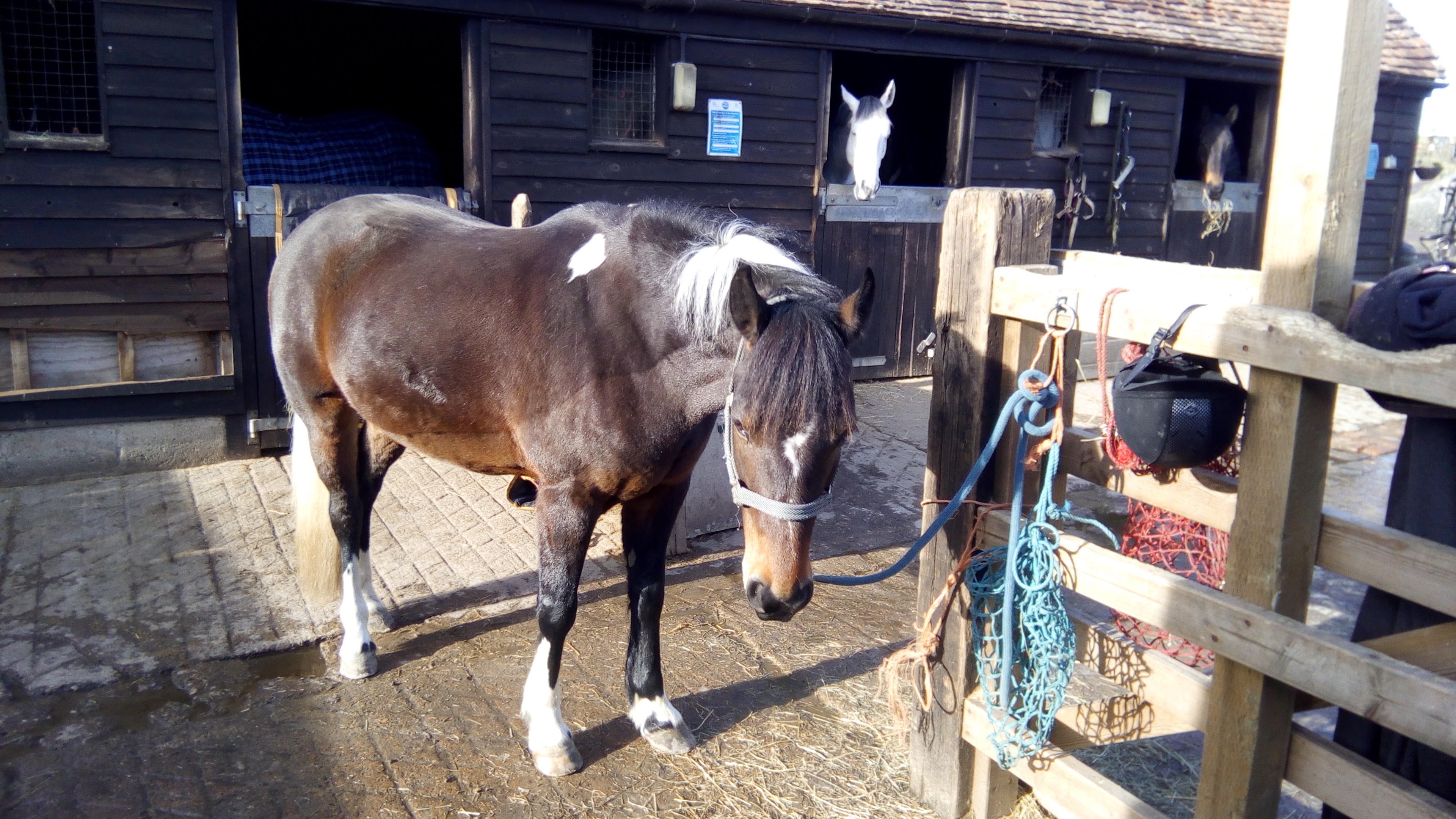 We had our amazing Animal Musculoskeletal Therapist (specializing in McTimoney and Equinology Chiropratic & Bodywork), Jin Langstone of Kismet Animal Therapy come out towards the end of her first week with us to give her a check over and we think we've found a contributing factor to some of the issues the owner was having. So 2 days off for her and then out hacking. Fun, fun, fun!!
A week of hacking and from what we've seen so far I won't classify this pony as a novice or bomb-proof but she's a fun little ride for an experienced person.  She's great with cars and small vans but nervous of noisy vehicles or the big articulated lorries.  When in company, things are a little less scary but she'll still shy from the big vehicles.  When on her own she does find things quite scary and she's tried to nap a couple of times, however, when she wasn't allowed to go back the way she came so after a minute or 2 of persuasion she always walked on.
At the end of her second week, and after a full week of hacking adventures, we started a jumping phase to see if she's as good as we've been promised.  And to say that she's amazing wouldn't really be doing her justice.  She's not interested in small crosses or little 50cm jumps to get her started, but bring out the 70, 80 and 90cm's and you see a whole new pony who's loving jumping and really taking the rider towards the fence.
You'll see in the 90cm video below she's really starting to pull, especially towards the second fence and I'm struggling to hold her back.  To that end she went long and low and just clipped that pole.  A shame and we're going to look at various bitting options to make riding into the fences easier.
Barbie is now being used in lessons and she did some great work with one of your young, yet experienced riders.  Sorry about the quality of the video, it rained through this whole lesson.
Can anyone say "no reins"?
And then a little jumping:
We've had some interesting times over the last 2 weeks, some good and some not so good.  She's being used in the school a bit more for lessons and because she has no real shoulder to speak about she's a great pony to teach the kids to sit up.  Since there's not much in-front it could be easy, if not correctly seated, to just tip over her shoulder.
We have discovered a couple of previously learnt behaviour which are undesirable at best-
Firstly she can occasionally napped in-hand, however since it is now something we're aware of a simple rope over the nose and she doesn't even try and leads perfectly.
And secondly it's become apparent that when hacking out in company a couple of times either bucked or try to buck when going in canter.  It's not big buck but could be enough to see off a poorly seated rider.  With someone experienced you can catch it quickly and ride her forward without any real problem, however, it does reiterate what we've said all along that this pretty pony is not a novice ride.  I truly believe that it isn't anything nasty just some high spirits.
On the up side, her hacking generally has improved markedly. And although she will still shy away from the very big/noisy vehicles it is manageable for an experienced rider, she doesn't even look at the usual cars or vans.  The napping when out alone has also stopped and she's much more confident getting out of our lane and onto the road through the village.  This was positively commented upon by one of the other BHSAI's at our yard who hacked her out this week after she's had just over 4 weeks of training with us.  This again supports that she can hack out alone but only with an experienced rider.
After 6 weeks of training the change in Barbie has been amazing.  We've been out on big hacks in company and she didn't step a foot wrong.  And at the end there was an opportunity for us to pop over a couple of little XC fences, so watch below at her jumping.
This is a nice little combination of 3 fences, and just note that my dog Ziva is having a lovely time and didn't want to be left out.  You might recognise that is Stig following, in a not so calm manner.  This was his second time over XC fences and it wasn't helped since his GP saddle doesn't fit at the moment so he was wearing a western saddle.  Definitely NOT the saddle for jumping in.
Barbie is a Dressage Superstar!!
After 8 weeks with us we've taken her out to compete and she won her class, Prelim 7.  Such a great achievement and she looks completely stunning, watch the video below and see how that fabulous white tail just shows her off perfectly
Whilst on this outing we also shot some video to show that she is great to load too.
The more I see of this pony the more there is to like; great competition / PC pony for any competent rider with 3 expressive pace and a good competition jump.
I have some fabulous news that mid April 2018 Barbie found her new forever home.
I'm so pleased that our adventures and hard work over those 8 weeks directly led to that sale on behalf of her owner and this 'Barbie Blog' shows everything we went through with her culminating in a winning dressage test at a local unaffiliated competition (video above).

Here's some nice pictures for you to scroll through…enjoy!!