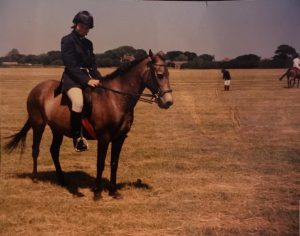 Some would say that Lise-Marie is late in becoming a professional equestrian, however, if you ask her she'd say she's right on time.
Horse-riding has been a huge part of her life since childhood, however it was always as a hobby and something to do in the evenings and weekends.  So she started with a career in the RAF, flying Puma Helicopters for 16 years, and although she'd never trade those years for anything in the world, it came to the point where the poor quality of life, the lack of freedom and choices became too much.  With that Lise-Marie took an option to leave but with no real idea as to what she would do but she just knew that she would avoid anything close to being in the 'rat race'.  She'll be the first to admit that she drifted for a couple of years until she was reminded about a training budget she was yet to use and whether that could help her to become a riding instructor.  Well, with that seed sown there was no stopping her so she started on a new mission with her lifelong passion of horses.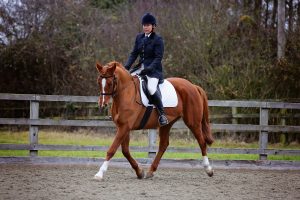 Lise-Marie re-trained as a riding instructor under the new BHS pathways scheme, and is a fully insured & qualified BHS Coach (BHSAI) plus a BHS Accredited Professional. She is continuing her personal development by studying in 2019 to take the BHS Stage 4 ridden exams with a view to taking the Stage 4 teach after; having already taken – and passed with distinction – the Stage 4 Stable Management (Intermediate Stable Managers) Exam in August 2017. 
"Thanks for reading right to the end of this page and learning more about me, as a little reward would you like to know why the name Graceland was used??" – Lise-Marie
Graceland Equestrian is the trading name for Lise-Marie Collins, Sole Trader of St Mary's Farm, Upwaltham, GU28 0LZ.