Blog:
Dated 26th Feb 2018:
Ollie's rate of improvement has taken a huge leap forward since the New Year.
His training started with Lise-Marie Collins in late July 2017 when his owner Sian had become a weekly client for lessons.  Sian's initial goal was to get him going forward without the persistent and somewhat exhausting "kick, kick, kick" that she was doing.  So we worked constantly and steadily on a plan to improve his natural rhythm through plenty of transitions, and then worked on his suppleness; initially with circles and cone exercises and then moved toward basic lateral work.  Since the New Year it's almost as if Ollie has found a completely new way of going, he works quietly off the leg and is a complete pleasure to ride.
See these pictures below and understand why we think he's now like a different horse.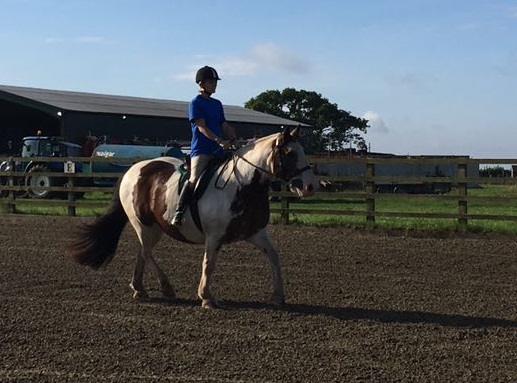 This 'before' picture (above) was taken at a Dressage competition held at his home livery yard last summer, where to Sian's credit she was placed 6th.  Since then he's lost about 75kgs and has found the spring to his step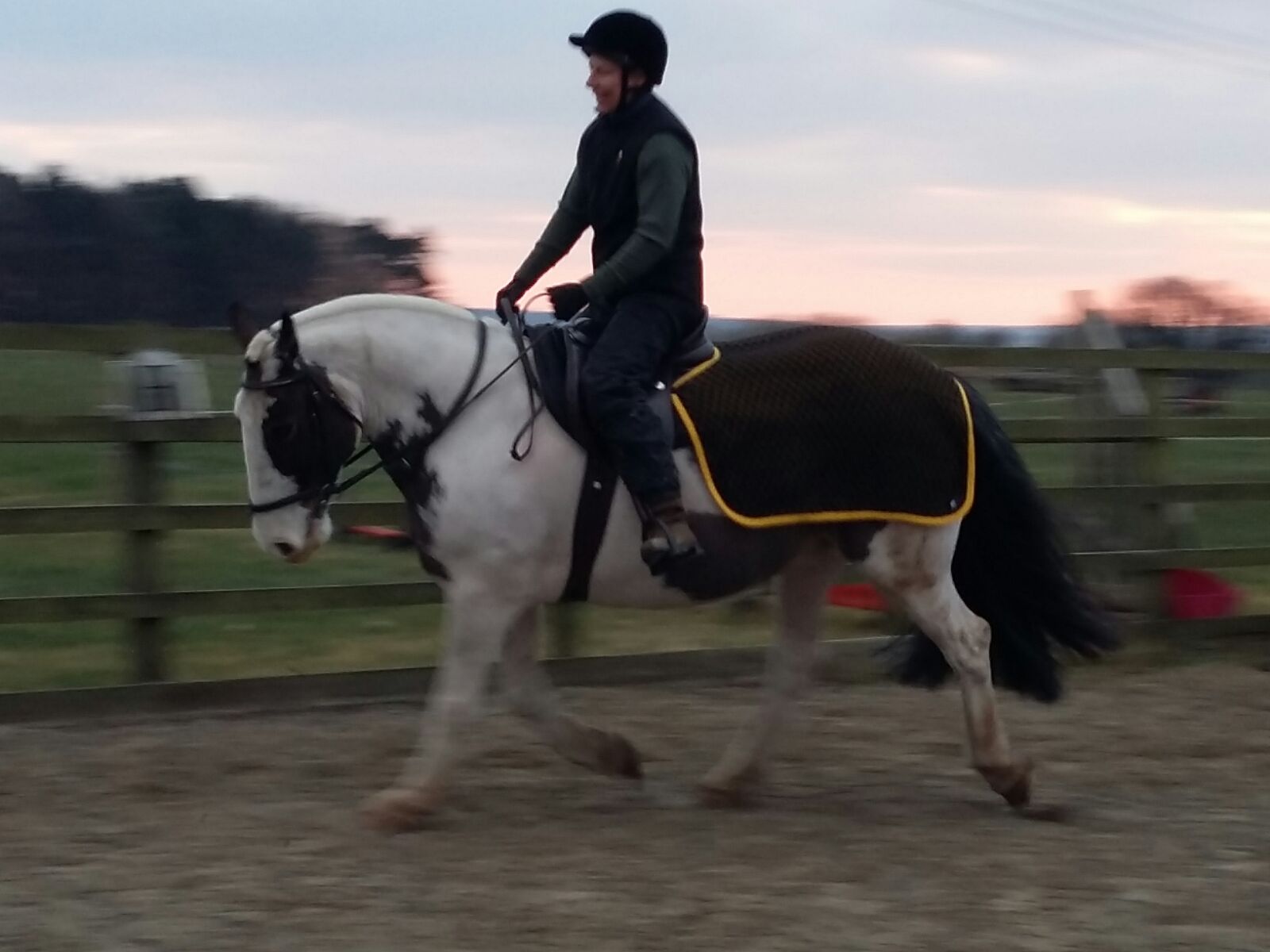 This 'after'picture above is definitely an action shot and clearly show's how forward going he is now and you can see from my face what an absolute pleasure he is to ride.  One of my questions to Sian during the training session when this picture was taken was "when is your next competition?"; watch this space for more 'Meet Ollie' blogs.
Dated 22 Feb 2018:
We had a great (albeit slightly unusual) training session this week. His owner was concerned that his saddle was restricting him so I did a bareback session. Lots of transitions, trot and lateral work; and everything went well. A great boy with such a big heart 
😃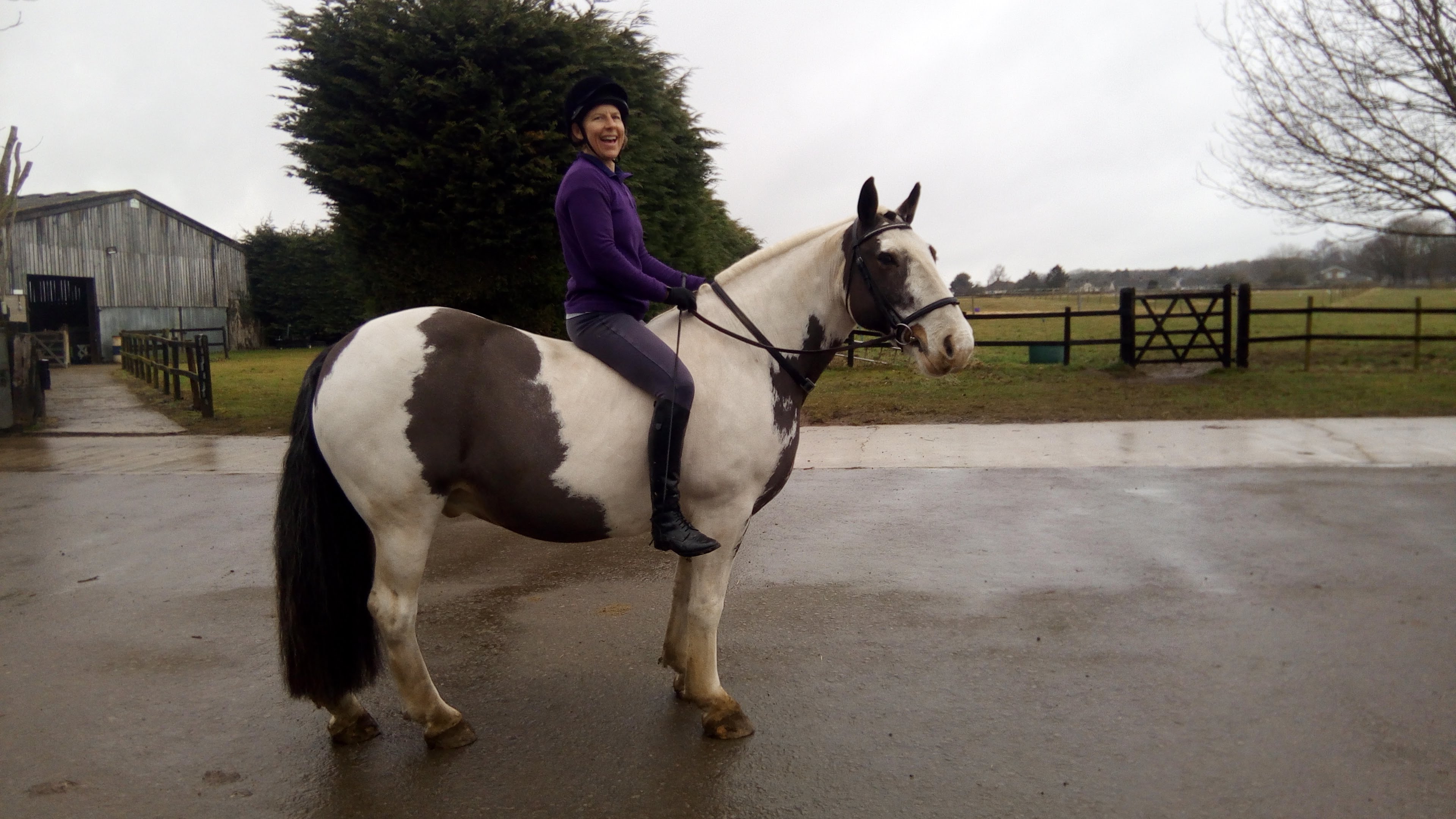 Dated 29th Jan 2018:
I had the most fabulous schooling session with this great boy today. I've been working with his owner (Sian Smith, read her review here) over the last 6 months to encourage a more forward going nature. And she has done a fantastic job as he went off my leg just perfectly. He's also looking great, this horse can truly live off fresh air and when he was bought 18 months ago he was definitely on the heavy side of being a cob (and I'm totally being polite there as he doesn't like being called fat 😉 ) Then he went lame, so work started in earnest last summer. Since then he's gotten fitter and shaped up so that he lost about 75kgs. The work isn't stopping there but he's such an amazing boy and really tries with all his heart both when ridden or on the lunge 
 Thank you for such a great schooling session and look forward to the next time.